Welcome to
365 Cards
Super Sketchy Sunday!!!!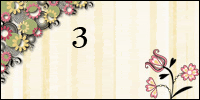 We have so much to celebrate at 365 Cards....we've hit 1,000+ followers! We celebrate you, our followers!!!! We're working this week a smidge different...we have Guest Design Team Members for all this week!
I'd like to introduce
Annie
to you...

I met Annie through 365 Cards and she is thee sweetest blogger!!!! If you pop over to her blog, you'll agree that she has a wonderful style...make sure that you leave her some 365 Cards bloggie love for her Super Sketchy Sunday Card and her personal blog!!!!

I hope that you'll welcome the entire Guest DT today AND all week....thanks for all your wonderful support!!!!
I also wanted to share a card with you today...my bloggie friend

Karen

is on the DT of CAS-tastic Challenges. This week they have a

sketch challenge

and it is by Karen!
Here's my take on her sketch...
I used my Echo Park Papers, it's their A Walk in the Park line...such fun patterns and colors! I was able to use a SRM sentiment sticker too!
I'm also entering this into SRM's CAS Style challenge...
I hope my US Friends all have a wonderfully fun, relaxing and safe 4th of July!!!!
p.s. Don't forget about the challenge going over on Yvonne's blog...I issued a friendly patterned paper challenge and there's a prize up for grabs...a Two Peas in a Bucket Gift Certificate...come on, whaddya got to lose?
You have read this article 365 DT / cas-tastic / echo park / srm / want2scrap with the title 365 Cards Super Sketchy Sunday change'ola and a CAS card.... You can bookmark this page URL http://playing-home.blogspot.com/2010/07/365-cards-super-sketchy-sunday-change.html. Thanks!